3. Manual & automated reports

Step by Step Guide – Creating Manual & Automated Reports
Reports assist operations personnel and management for ongoing and post-resolution review of each problem. Reports can also be useful for post-mortem review for your customers. Currently, two types of Report are provided in smartQED – the Summary Report and the Detailed Report.

Step 1 – Generating Manual Reports

a) Click on the Download Summary Report button at the top next to the Chat icon in the Fishbone Screen.

You will get a human-readable PDF summary report file generated by smartQED. The Report contains various data for the problem you are investigating. For example, it contains details such as the actions taken, QED Fishbone cause analysis, status history, and solution description.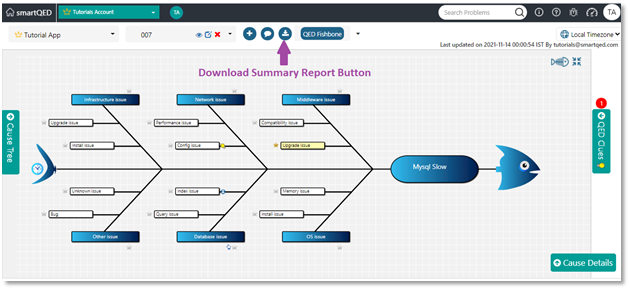 b) Alternatively, you can click on the Reports tab in the navigation bar on top of the Fishbone screen.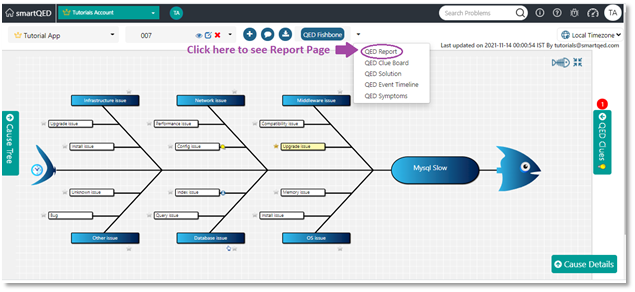 You will see a screen that displays all the updates made to the problem and its Fishbone. This screen allows you to specify options for the Summary and Detailed Reports, as shown in the screenshot below.
c) Click on the options you want for your report, and then click on Download Report.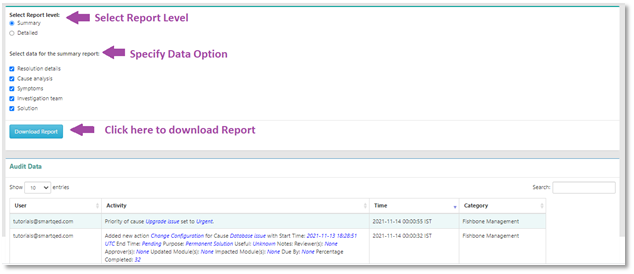 Step 2 – Enabling Automated Reports
You can enable this feature to send Reports automatically at specific time intervals to one or more email addresses. The feature can be enabled for each specific application by the admin.
Go to the Configure App screen, click on Customize Auto-Reporting: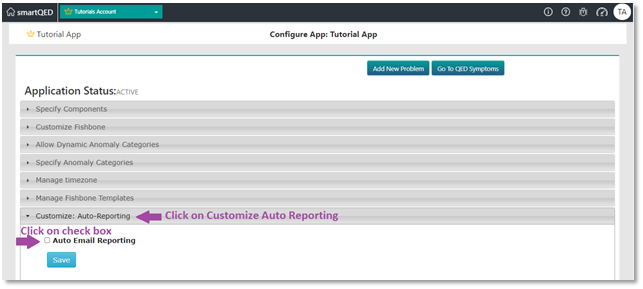 Step 3 – Configuring Automated Reports
(a) Click on the checkbox for Auto Email Reporting in the Customize Auto-Reporting section.
(b) Enter one or more emails (as a comma-separated list), the Scheduling Intervals based on the priorities of the problem, Report Level and click on Save.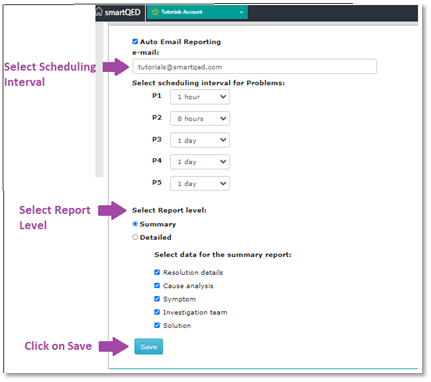 You will now start getting automated PDF reports at specified intervals as per your selected options. The reports will be emailed to the email addresses you provided.
Step 4 – Disabling Automated Reports
Uncheck the checkbox for Auto Email Reporting and click on Save to disable this feature.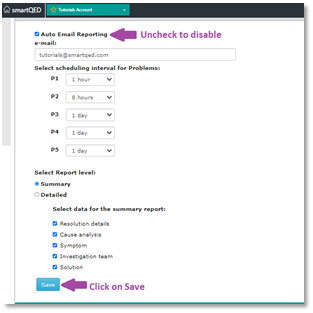 Hope you found this information useful. If you have any questions, please contact us at [email protected]. Visit our website at https://smartqed.ai to get our latest news and blogs.